French Impressionist
b Paris, December 26, 1883
d Dax, November 5, 1955
Marie-Clementine Valadon was a young model in 1880s Paris, posing for such painters as Puvis de Chavannes, Pierre-Auguste Renoir, and Berthe Morisot. While it is believed that her union with amateur painter (and chronic alcoholic) Boissy produced an illegitimate son in 1883, several other artists were rumored to have fathered the child. Nevertheless, Spanish writer and art critic Miguel Utrillo allegedly befriended the mother and kindly provided the infant, Maurice, a proper surname. Some eight years later, Utrillo openly and legally acknowledged paternity. Nevertheless, speculation continues.
Valadon, herself an illegitimate peasant, became the protégé of Henri Toulouse-Lautrec, who, along with suggesting she change her name to a more lyrical "Suzanne," introduced her to Edgar Degas, who became her mentor and encouraged her painting career.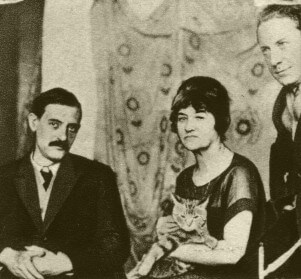 Young Maurice has been described as neurotic and did poorly in both scholarly and business pursuits. At the age of eighteen he was committed to an asylum as a result of encroaching alcoholism. Although he had never exhibited artistic tendencies, his talent became apparent when he began painting as a form of therapy. Suzanne continued to support and encourage him; and although she provided some instruction, Maurice was largely self-taught.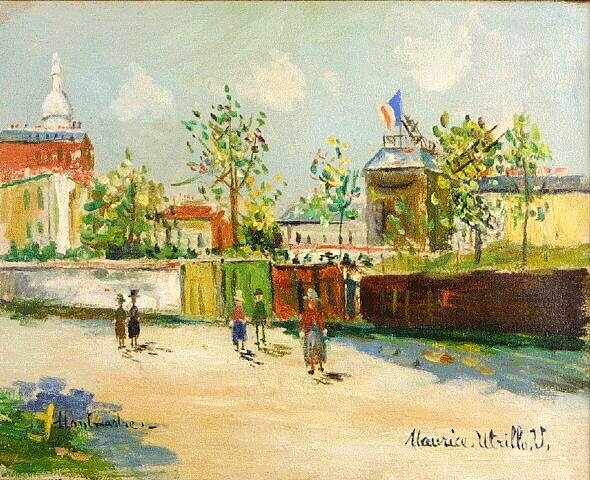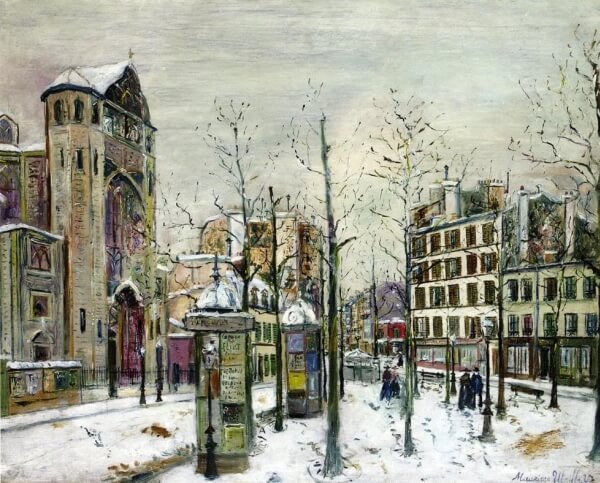 Utrillo traveled to the countryside outside Montmagny, a village north of Paris. His expeditions exposed him to the great cathedrals of France and the expansive landscapes of Brittany and Corsica, all of which became subjects for his work. Between the autumn of 1903 and winter of 1904, he produced nearly 150 paintings, including Roofs of Montmagny. After returning to the village in 1906, he continued with his studies of landscapes and street scenes but moved into lighter tones, with less impasto. Ordinary houses, as in Rue du MonCenis and Berlioz's House (both1914) were favorite subjects, as were churches, including the Church of Villiers-le-bel (1909) and Church at St Hilaire (1911). By 1920, at the age of 37, Maurice Utrillo was internationally renowned.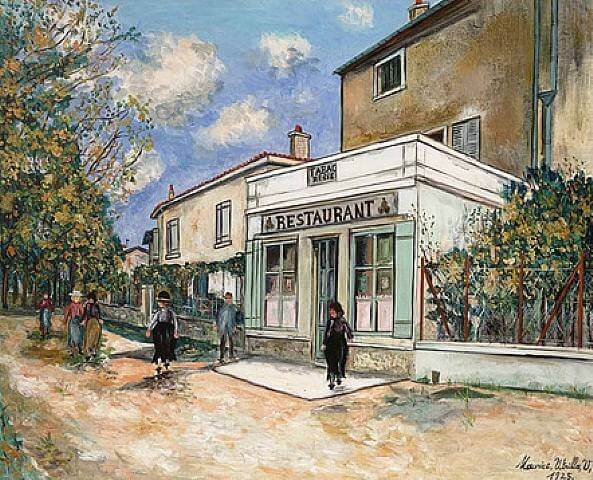 The body of work produced by Maurice Utrillo over the subsequent fifty-plus years, numbers in the thousands and includes oils, gouaches, watercolors, and pencil sketches.
Arguably the best-known portrayer of Paris, particularly Montmartre, he is known for consolidating structure and texture, as contrasted with Impressionism. His interpretations of Parisian streets contributed to the popularization and romantic imagery of that period. People, however, were portrayed as solitary figures representing social isolation.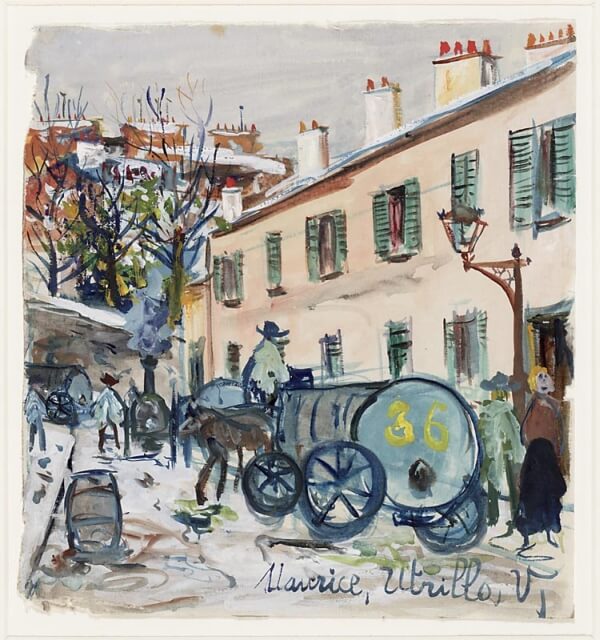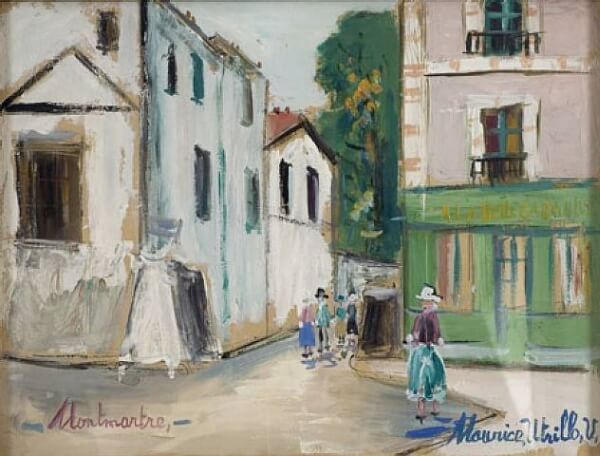 In 1924, Suzanne Valadon moved her son to a chateau near Lyon, France to distance him from the bars of Montmartre. Still, Utrillo continued to experience alcoholic and self-destructive relapses. His artistic genius, however, was never dampened; and he is regarded by many as the century's greatest painter of street and urban scenes, particularly Montmartre and the artists' quarter pre-World War I. And while he produced many paintings of French cathedrals and panoramic depictions of the surrounding countryside – and even a few florals – it is the street scenes of the industrial suburbs and the little-known sights of the French capital for which he is remembered.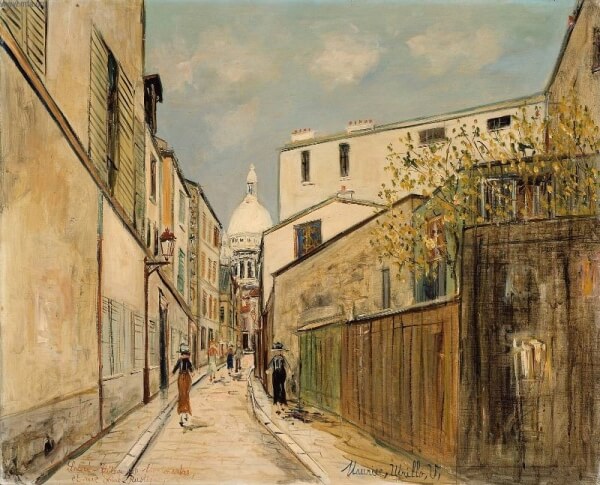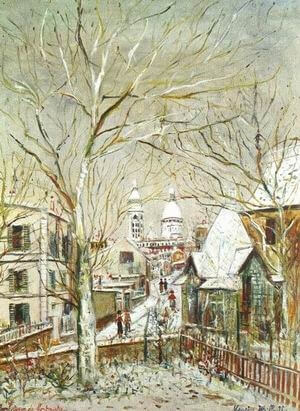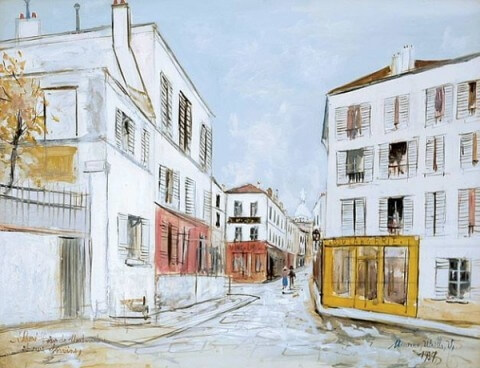 Obvious influences include Pissarro and Cezanne; but it was Utrillo's sense of color relation, his composition and an eye for simplification which were his gifts. Although considered part of the Impressionist movement, his work defies classification and is neither classicist, realist, Fauve, Expressionist, primitive, nor romantic. While early works yielded many fine paintings, it is his "white period," (1909-1914), wherein zinc white and plaster were sometimes mixed to produce works dominated by varying shades and tints of white, that is considered the pinnacle of his creativity. In later years, he entered his "colorist period," successfully exploring vivid hues. While paintings of the latter period have a livelier quality, they are generally regarded as less touching.
A unique quality of Utrillo's work is the ability to appeal to both sophisticated and simple tastes. It is likely that the seeming simplicity of his work is the reason he has become one of the most forged artists. His canvases have continued to appreciate in value, with good "white period" pieces commanding nearly US $1,000,000.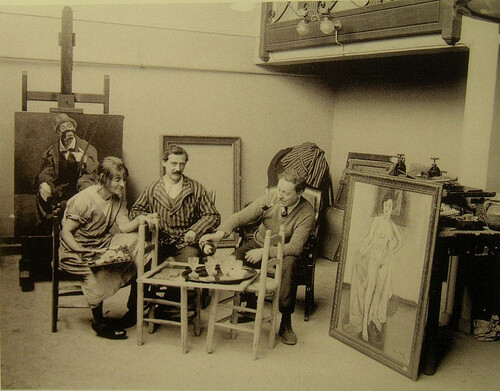 Middle age saw Utrillo embrace religion; and in 1935 (at age 52) he married Lucie Pauwels, a widow whose business savvy allowed the couple to retire in a luxurious villa in the Paris neighborhood of La Vesinet in the late 1930s. Here he continued painting, relying on postcards, memories and the view from his window as he became too ill to work in open air. Utrillo lived into his seventies and died on November 5, 1955. He is buried in the Cimetiere Saint-Vincent in Montmartre.